Salomon introduces the Sense Ride 3. The Sense Ride is probably Salomon's most popular trail running shoe, which is renowned for its versatility. These third editions of the trail shoes offer more support and protection during trails than their predecessors, the Sense Ride 2. Salomon has reinforced this new version in several places and with these shoes helps you to challenge yourself to the max.
These neutral trail shoes are quite different from the Sense Ride 2. This difference is particularly noted in the Sense Ride 3's reinforced parts and the protective layers added to the shoes. This blog takes you through all the details of the Sense Ride 3. We will explain the different techniques used in the shoe and show you where the shoes have been reinforced. Are you ready for some new challenges?
Shop the Salomon Sense Ride 3 here
With the Sense Ride 3 Salomon provides you with the best that trail shoes have to offer. These shoes will help you through the most challenging of trails. They have been specially designed for this purpose and they offer the perfect support to make those tough trails into a success. If you are a runner who loves to go out on those challenging trail runs, then the Sense Ride 3 might be your perfect companion. This might be hard to imagine if you are used to the Sense Ride 2 which was more suitable for lighter trail work, but because the shoes have been completely overhauled they are now ideal for tough trail runs.
The Sense Ride 3 is available in different colours for men and women. There's also a limited edition of the shoes for both men and women, and for men there is a special GORE-TEX version of the shoe. The Limited Edition has a black midsole and a completely white upper.
Salomon Sense Ride 3 in detail
Learn more about these unique trail running shoes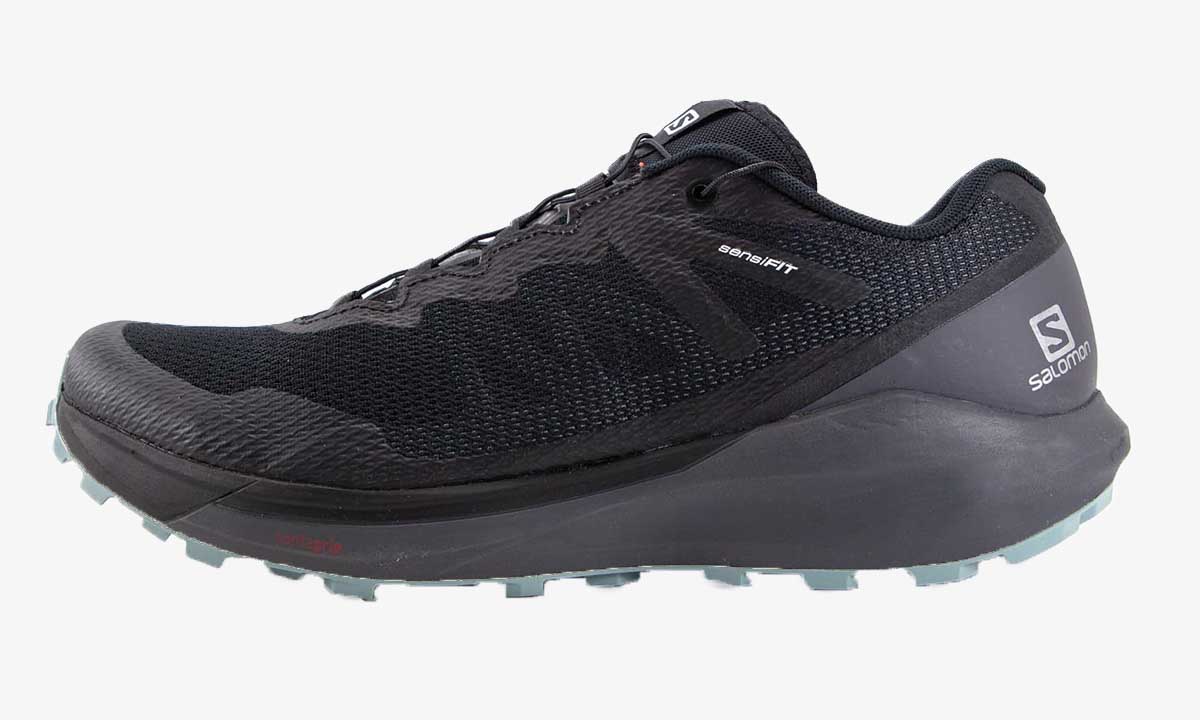 Anti-Debris Mesh Technology
Some changes have been made to the upper of the Sense Ride 3. As indicated, Salomon placed more focus on protection and support in these new versions of the shoe. To reduce the risk of irritation extra reinforced parts have been added to the forefoot. These parts might feel a bit odd at first, but you get used to this feeling quite fast.
The reinforced upper is made of Mesh material that provides the necessary ventilation during trail running. Added to this is the Anti-Debris Mesh which keeps dirt from entering your shoes. Dirt and small stones in your shoes are the nightmare of every trail runner; it can cause blisters and other irritation and even might force you to stop and empty your shoes. So this extra layer of protection around the forefoot with Anti-Debris Mesh technology is more than welcome. Salomon's celebrated Quicklace technology is also featured in these shoes. They allow you to fasten your laces with one simple pull, and they ensure that your laces stay tied throughout your runs.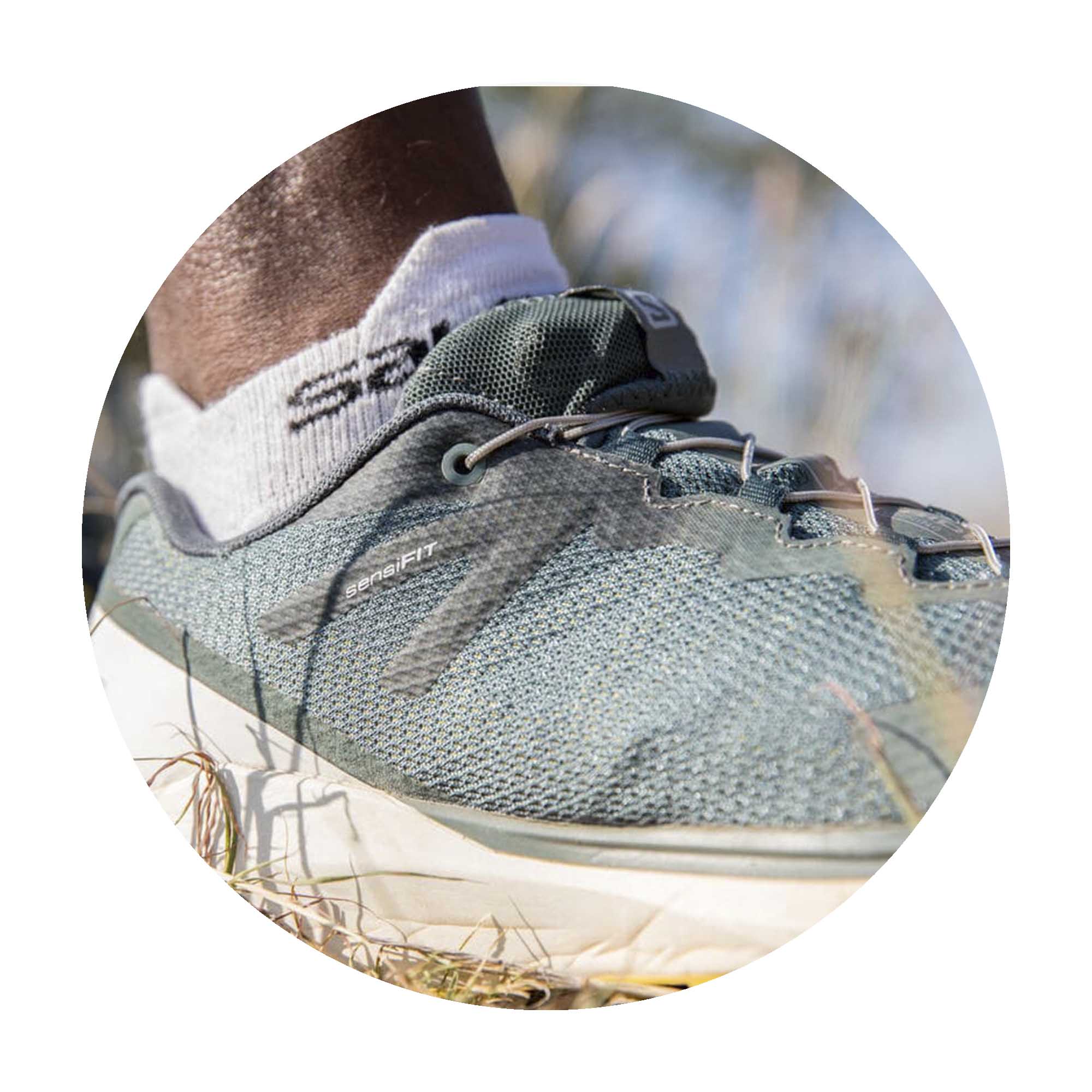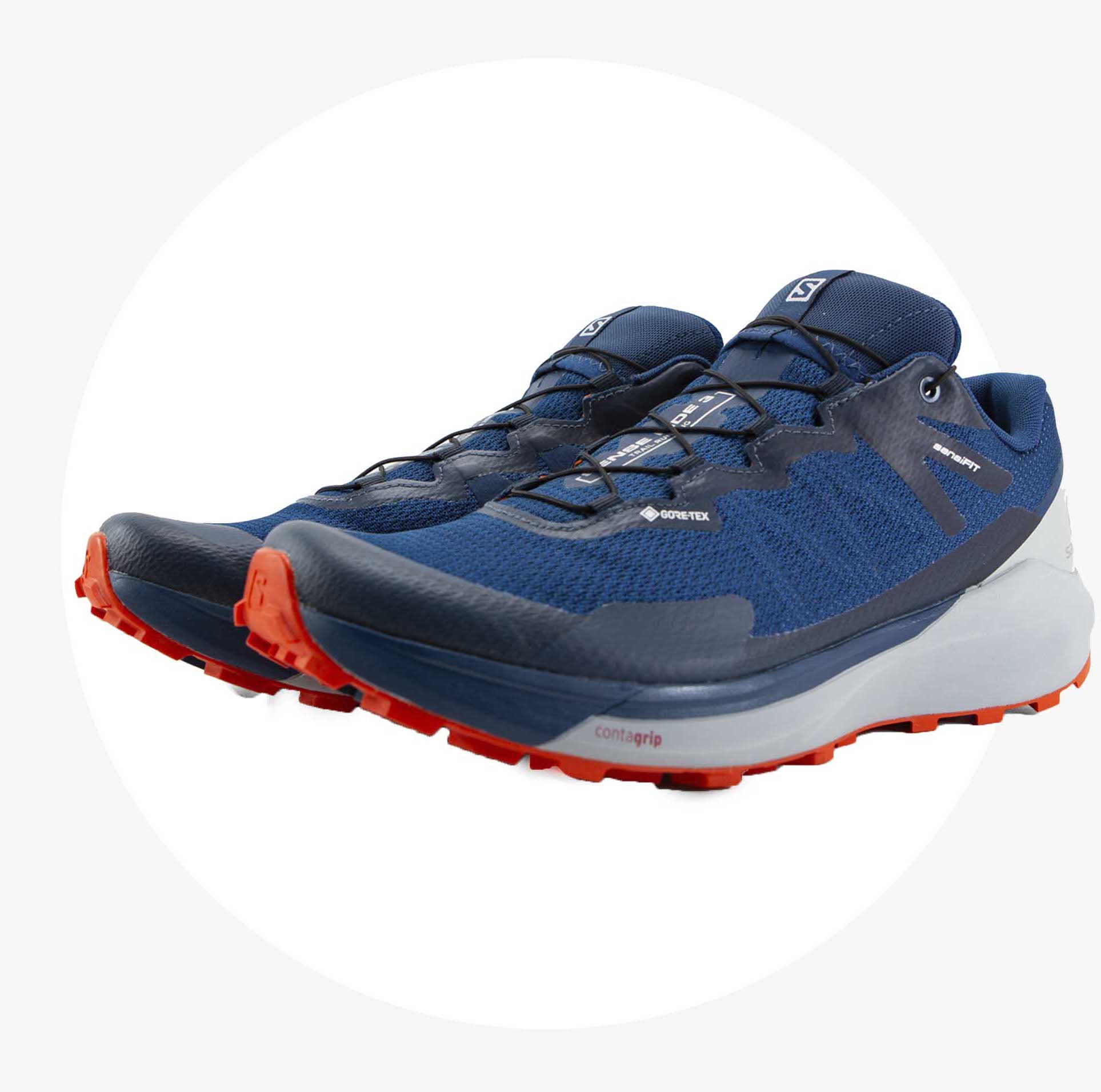 Optivibe and Endofit Technology
During trail runs it is important to maintain grip in preparation for your next take-off. Rough terrain, but also stones, mud or a difference in height make this more difficult. The challenge for Salomon is to provide the runner with the best possible support during this process. Salomon has added an Optivibe midsole that provides sufficient cushioning. Optivibe material is a combination of different foams that absorb shocks and helps relieve pressure off of your joints. Salomon's Endofit technology is fitted on top of the Optivibe midsole and helps to keep the foot in place. The Endofit technology corrects a lot of ineffective movement while running trails and keeps your feet in the right place. This keeps your feet stable inside of the shoes and reduces the risk of slips and the after effects of slips.
Contagrip Technology
As a trail runner, you must be able to rely blindly on your outsoles. They should provide grip no matter what. No grip means slipping and sliding, and might cause injuries; a situation you want to avoid at all times. As seen in the Ride 2, the Ride 3 also features the Contragrip technology. Contragrip ensures that you can perform at your best in wet as well as dry conditions, and on paved and unpaved trails. The Contagrip outsole is made of an inner and outer ring. The outer ring has a higher density, because it makes contact with the ground more often and is more susceptible to wear. The inner ring has a lower density, is more flexible and provides traction while going through transition. These two zones are clearly visible in the picture.
Added to the Contragrip technology is Salomon's Profeel grip. This ensures that gravel, stones and other dirt doesn't clog up your lugs when hitting the dirt. Both technologies make it possible to run trails on rough terrain.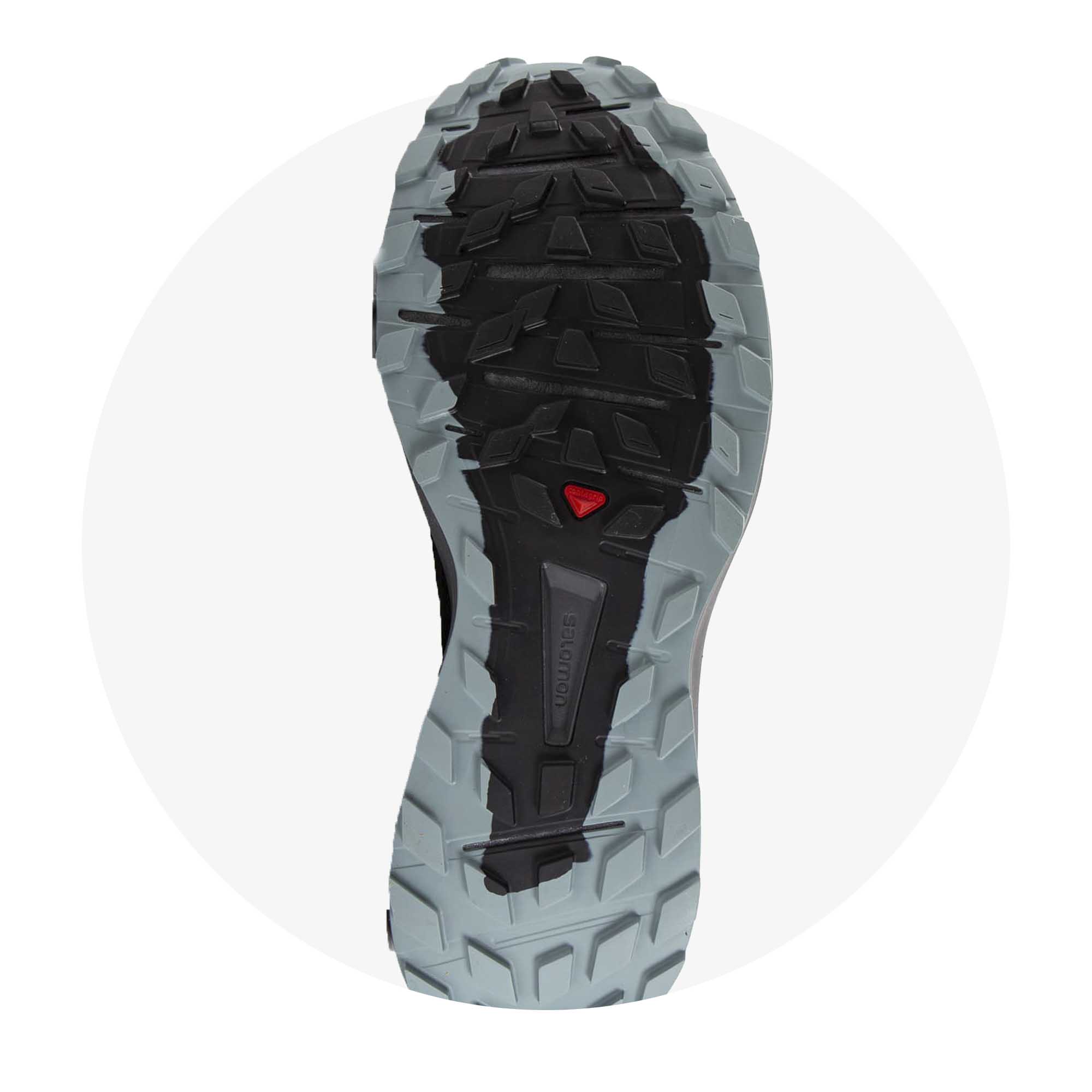 Meeting Expectations
Because of all the obstacles that come your way during trail running, faultless running is a serious challenge on trails. Providing grip, cushioning, shock absorption and protection to your feet during rough trails are Salomon's biggest challenges. With the Sense Ride 3, Salomon is convinced to have developed trail shoes that meet all these expectations and challenge you to conquer the most beautiful trails.
Shop the Sense Ride 3 here
Conclusion
Salomon challenges you to push boundaries with the Sense Ride 3. The shoe is made for rougher terrain, muddy trails and provides the right support and protection when running. The Anti-Debris Mesh technology provides ventilation, but also keeps dirt at bay. The midsole works closely together with the outsole. It absorbs shocks, provides adequate cushioning and snugly wraps around your feet. The Contagrip works together with the Profeel grip. They provide grip on all surfaces and this makes the Salomon Sense Ride 3 into a versatile trail shoe. Due to extra reinforced parts in the shoes, this model is slightly heavier than the Sense Ride 2.
Curious? The Salomon Sense Ride 3 is now available at Running.shop. If you still have questions about the shoes, please contact our customer service.
Type of Runner
Neutral Runners
Weight
280g - Men | 235g - Women