The Nike Flyknit Sports Bra is the sports bra for runners. Its revolutionary levels of comfort and the use of Flyknit technology in its construction make this bra ideal for high-impact sport activities such as running. This blog post doesn't just highlight Nike's Flyknit sports bra, but also explains why a good sports bra is a must have for runners, and what characteristics a good sports bra should have.
Shop the Nike Flyknit Sports Bra
A good sports bra is of great importance for every woman, no matter the size of their breasts. It, however, can take up quite a bit of time to find a sports bra that fits comfortably and also offers sufficient support. Everyone of us has had bad experiences when it comes to sports bras; straps that cut into the skin, chafing material used in the cups, the empty promise of offering support, or the offering of support up to the point of torture. With Nike's Flyknit sports bra you will find a bra that actually provides comfort as well as the right amount of support. Comfort is the Flyknit Bra's middle name. And if that wasn't enough, it also knows to provide the necessary support thanks to its compressive fit.
The Nike Flyknit Sports Bra in detail
Discover the unique characteristics of these sports bras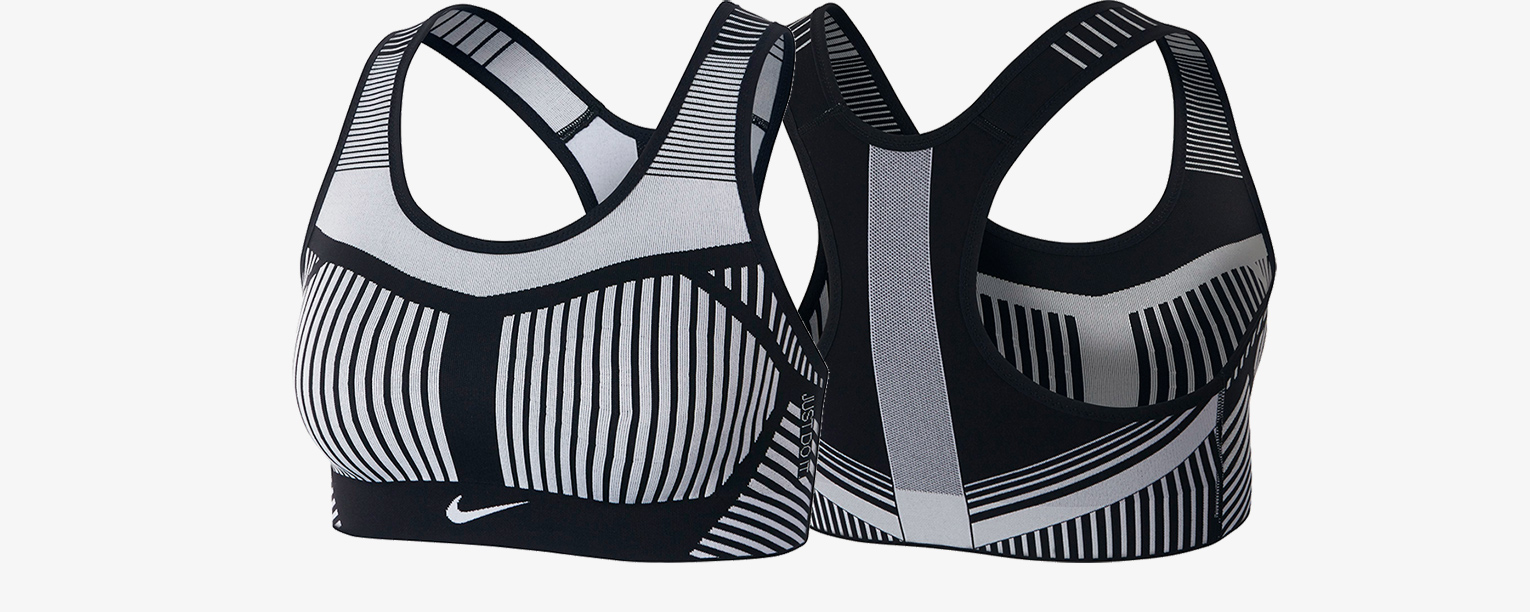 Why wear a sports bra?
In short, when you're a woman a sports bra is essential when going out for a run. Without sufficient support from a good sports bra, skin and tissue will stretch-out beyond recovery. A regular bra reduces 28% of movement and a sports bra reduces at least 78% of movement. Sports bras come in all shapes and sizes. A good sports bra fits well, provides pleasant pressure, provides support during exercises, and prevents pain to the breasts, the back and the shoulders. Regardless of your size, wearing a sports bra is a good idea.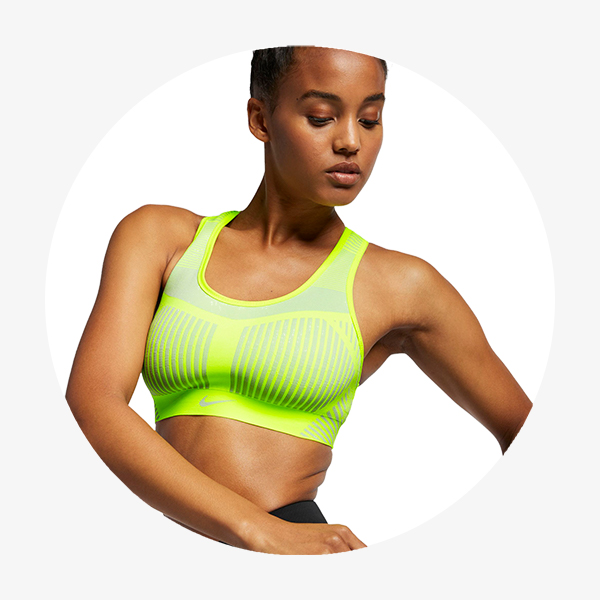 WHAT MAKES THE FLYKNIT SPORTS BRA SO SPECIAL?
First of all, this sports bra features two of Nike's best known technologies; namely, the Flyknit and the Dri-FIT technologies. The Flyknit technology could already be found in their running shoes. Now it it is also used in the Flyknit sports bra. This technology ensures that the bra is highly breathable and that the material is flexible. The material has to be flexible, since the bra doesn't have any clasps and is put on over the head. This also is the only downside of the bra, it's hard to put on and take off.
The Flyknit sports bra also features the Dri-FIT technology; a well-known technology for Nike connoisseurs. This technology wicks moisture away from the body so that you can stay dry and comfortable during your runs. You must have noticed it by now; comfort is a high priority with this luxurious sports bra. The video below shows you how the Flyknit Sports Bra fits.
Play Video
The Nike Flyknit Sports Bra
Comfort ++
It aren't just the two above mentioned technologies which ensure that the Flyknit bra feels like a second skin. There are several other factors which make the bra so comfortable. The bra is almost seamless and the material has a very soft feel. The compression fit offers excellent support and because the sports bra has wide straps and is made of one piece, abrasion and irritation is also a thing of the past. In addition to the comfortable fit, the bra is also very fashionable. The racerback not just ensures that your arms have all the freedom of movement they need, but also that they are safely covered when wearing a singlet. All these factors help to ensure a wonderful running experience.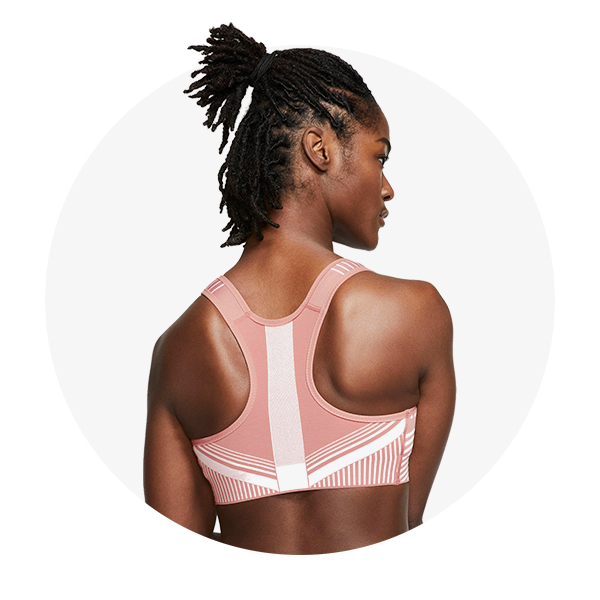 During its development the Flyknit Sports Bra has gone through different stages before becoming the luxurious and supportive end product. Check out this video to learn more about this process.
Play Video
Discover the Flyknit Sports Bra
Nike has a wide variety of sports bras in their collection; the Flyknit Sports Bra, however, really stands out. This bra is very comfortable, it really does fit like a second skin. Whether you are going for a quick lap or a long distance run, this bra will help you through it. The Nike Flyknit and Dri-FIT technologies keep you on the road without experiencing irritation or other annoyances.
Have we sparked your interest? You can find the Nike Flyknit Sports Bra in our webshop. Do you still have some questions about this sports bra, or about sports bras in general? Don't hesitate to contact our customer service. They will gladly help you with all your questions.
Back
61% Nylon / 39% Spandex
Bottom Hem
62% Nylon / 38% Spandex