Suunto 9 Baro
The Suunto 9 Baro is a versatile multi-sport watch for runners who want to track and improve their performances. Suunto's multi-sports ...
Read more
This product is out of stock
Article number

SS050021000

Brand

Suunto

Colour

White

Article group

Sport Watches

Activity tracker

Yes

Altimeter

Barometric

Calories burned

Yes

GPS sensor

Yes (integrated)

Heart rate monitor

Yes, integrated

Stopwatch

Yes

Water rating

10 ATM - 100 metres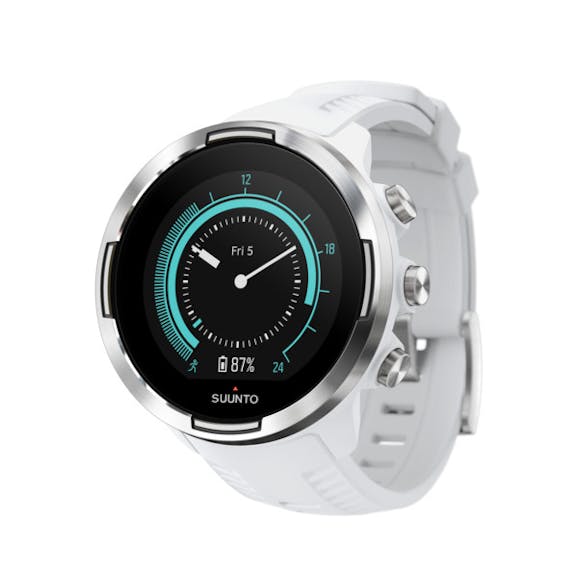 Description
Suunto 9 Baro
The Suunto 9 Baro is a versatile multi-sport watch for runners who want to track and improve their performances. Suunto's multi-sports watches have been extensively tested in extreme conditions. The robust watches have been designed to withstand external force. The Suunto 9 Baro features an intelligent battery saving system, which can extend battery life up to 120 hours. This makes the Suunto 9 Baro very suitable for long, hard trainings and runs.

GPS and Navigation
The integrated GPS-function connects to GLONASS, GALILEO and QZSS satellite signals. The Suunto 9 Baro accurately measures your location no matter where you are, how fast you go or how far you go; when running trails oe when running through a city centre, the Suunto 9 Baro will be able to track your movements. The Suunto FusedTrack technology combines the GPS function with data from the activity sensor to optimise the tracking function. This helps to ensure that the GPS function doesn't drain your battery. Therefore, the Suunto 9 Baro is very suitable for ultra-runners. Adding to this is the digital compass and the barometric altitude tracker (combinable with GPS altitude tracker) also featured in this watch. With these features you will always know at what height you are running.

Heart Rate and Options
The Suunto 9 Baro measures your heart rate through advanced wrist measurements. Next to recording your heart rate during activities, the watch also measures your daily activity and sleep. The watch measures your average heart rate throughout the day, measures your training effect and calculates your recovery time. The Suunto 9 Baro also records your sleep hours, your awake hours and at what time you started sleeping.

Activity Profiles
The Suunto 9 Baro has 80 built in sports profiles for running, cycling, swimming and many more activities. The watch also measures your speed, covered distance and performance when in water. The watch is waterproof down to 100 metres, so don't be afraid to jump into the water while wearing this watch. This also makes the watch very suitable for triathletes. With the Suunto app you can follow and share your performances. The watch is also compatible with different popular applications such as Strava.

The battery of the Suunto 9 Baro lasts up to 120 hours. The multi-sports watch features various power saving modes. You can choose the mode that fits your activity best. By connecting the Suunto 9 Baro with your smartphone you can stay in contact with the world during and after your activity.

Details:
Intelligent battery saving mode
Integrated GPS
Satellite connection through GLONASS, GALILEO and QZSS
Can be connected to Strava and other platforms
Touch display
Touch screen lock during movement
Barometric altitude tracker
Digital compass
Chargeable battery
Battery lasts up to 14 days in time mode, and up tot 7 days in 24/7 tracking mode
Waterproof down to 100 metres
Size: 50 x 50 x 16.8 mm
Weight: 81 grams
USB Chargeable
How can we help you?
Our experts are waiting for you!
Call us:+31 72 - 52 000 99

E-mail us:

[email protected]

Chat with us:Facebook