Polar Vantage M M/L
The Polar Vantage M size M/L multisport watch is a versatile and lightweight watch. This watch is perfect for athletes who want to lift ...
Read more
This product is out of stock
Article number

90075954

Brand

Polar

Colour

Lime

Article group

Sport Watches

Activity tracker

Yes

Altimeter

Via GPS

Calories burned

Yes

GPS sensor

Yes (integrated)

Heart rate monitor

Yes, integrated

Stopwatch

Yes

Water rating

3 ATM - 30 metres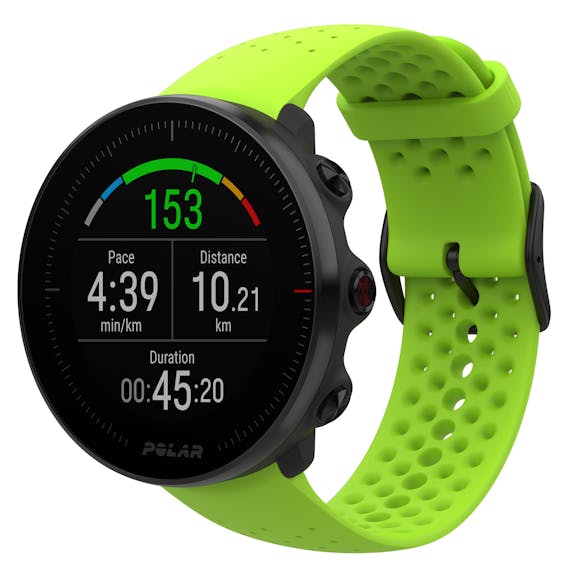 Description
Polar Vantage M M/L
The Polar Vantage M size M/L multisport watch is a versatile and lightweight watch. This watch is perfect for athletes who want to lift their performances to the next level. The sports watch has an integrated GPS function which records your speed, distance and route. The watch also provides you with important information about your daily activities and recovery moments and also functions as a 24/7 activity tracker.

With the Vantage series Polar introduces the latest form of heart rate measuring; Polar Precision Prime. The watch measures your heart rate through a combination of optic sensors and physical measurements of the skin. This enlarges the reliability of the measurements and ensures that they are accurate under the toughest of conditions. The Training Load Pro technology provides you with a comprehensive picture of how your training sessions strain your body in different ways.

The battery of the Polar Vantage M lasts longer than those of its predecessors and is therefore very suitable for long distance training. The watch is waterproof up to 30 meters and analyses your performances when swimming. Therefore this watch is also suitable for triathletes. By synchronising the watch with the Polar Flow app you can import routes and record and analyse your training data and progress. With Smart Coaching you are coached during your training and receive feedback on your progress. Additionally you can share your training data with your coach and with friends.

Smart Coaching Functions:


Polar Precision Prime: provides you with accurate wrist-based heart rate tracking even in the most demanding conditions
Training Load Pro: shows the strain your training puts on different parts of your body
Running Index: get an estimate of your running VO2 max and see how your running is developing
Running Program: get a personal and adaptive training plan that fits you and your goals
Smart Calories: know exactly how many calories you've burned based on your weight, height, age, gender, your individual maximum heart rate (HRmax) and how hard you're training
Activity Guide: shows you how active you've been during a day and gives practical tips on how to achieve your activity goals
Swimming metrics: measures your data while you are swimming

Polar Flow Web-service and App:
If you use the Vantage M together with the Polar Flow web-service and app you will receive all tools, statistics and support you need to push your training to the next level. Challenge yourself with new goals, check out your training sessions and discover more about your active lifestyle. Directly after your training you will receive a detailed visual overview of your training in the Polar Flow app which helps you to analyse your performances.

Features:
Integrated GPS
Smart Coaching
Synchable with Polar Flow
Records acceleration
Chargeable 320 mAh lithium-polymer battery
Longer battery life: up to 30 training hours
Waterproof up to 30 meters
Size: 46 x 46 x 12.5 mm
Weight: 45 grams
USB-cable for synchronising data with computers via Polar FlowSync
How can we help you?
Our experts are waiting for you!
Call us:+31 72 - 52 000 99

E-mail us:

[email protected]

Chat with us:Facebook