Polar V800 HRM
The Polar V800 HRM sports watch is perfect for runners who like to search for their boundaries, who want to have a good insight in their ...
Read more
This product is out of stock
Article number

90060774

Brand

Polar

Colour

Red

Article group

Sport Watches

Activity tracker

Yes

Altimeter

Via GPS

Calories burned

Yes

GPS sensor

Yes (integrated)

Heart rate monitor

Yes, integrated

Stopwatch

Yes

Water rating

3 ATM - 30 metres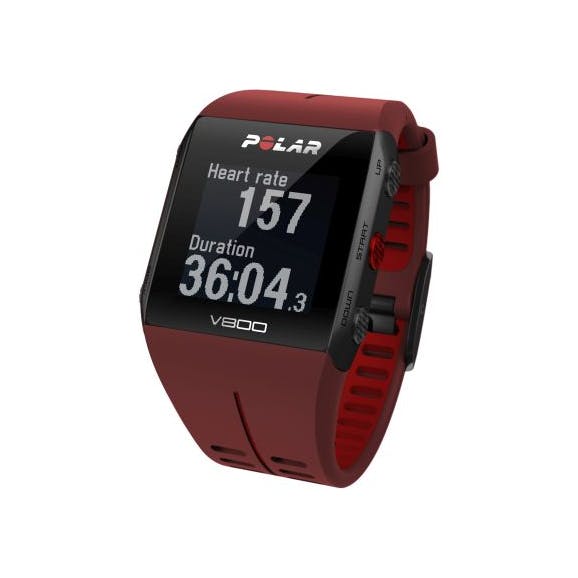 Description
Polar V800 HRM
The Polar V800 HRM sports watch is perfect for runners who like to search for their boundaries, who want to have a good insight in their activities and who like to train with the advanced training functions. The Polar V800 HRM has an integrated GPS-function which shows you your pace, distance and route. The watch also provides important information about your daily activities and recovery status. This means that the Polar V800 HRM can also function as a 24/7 activity tracker.

The included Polar H7 Heart Rate Sensor accurately measures your heart rate data. The battery of the Polar V800 lasts a long time and the watch is well suited for long training sessions. The watch is waterproof up to 30 meters, making it ideal for triathletes.

The Polar Flow V800 HRM sports watch lets you import new routes through the Polar Flow app. And through Smart Coaching, you will receive guidance during your training and receive useful feedback on your progress.

Smart Coaching functies:
Training load: shows how your training affects your body and helps you compare the load of different sessions
Recovery Status: Shows you the time necessary for recovery before the next training session
Training Benefit: Delivers motivating feedback immediately after training and describes the effect of your session
Running Index: Shows how your running performance is developing
Running Program: Personally adjusted training plan in Polar Flow, whether you are training for 5K or a marathon
Smart calories: Lets you know exactly how many calories you've burned based on your weight, height, age, gender, your individual maximum heart rate and how hard you're training
Orthostatic Test: Easy and reliable test to determine your current condition
Fitness test: A five minute test that measures your aerobic fitness based on your heart rate, heart rate variability and your background information
Activity Guide: Shows how active you've been during the day and gives practical guidance for reaching your daily activity goal



Polar Flow Web Service and App:
When you use de V800 in combination with the Polar Flow Web Service and app, you are given all tools, statistics and support you need to sharpen your training. Challenge yourself with new goals, check your training sessions and discover more about your active life style. Synchronise all your training data between your V800, the Polar Flow Web Service and the mobile app completely wireless with Bluetooth Smart. Receive a visual overview directly after your training and analyse your achievement in the Polar Flow app.

Features:
Integrated GPS
Barometer
Smart Coaching
Import new routes via Polar Flow
8 MB Flash memory
Accelerometer
Rechargeable 350 mAH lithium polymer battery
Battery duration up to 13h of training time with GPS and sensor and up to 50h in GPS low power mode
Gorilla glass window
Aluminum and stainless steel shell
Water resistant - 30m
USB cable for data sync with PC or Mac via Polar FlowSync Bluetooth Smart
How can we help you?
Our experts are waiting for you!
Call us:+31 72 - 52 000 99

E-mail us:

[email protected]

Chat with us:Facebook