THESE DEALS ARE VALID FROM THE 25TH TO THE 28TH OF NOVEMBER 2022.
DISCOUNTED RUNNING SHOES
Now is the time to treat yourself to a new pair of running shoes. At All4running you can shop the largest collection of running shoes with a minimum of 15% discount from brands such as adidas, HOKA, New Balance, Nike, Salomon and Saucony.
Shop Women's running shoes
Shop Men's running shoes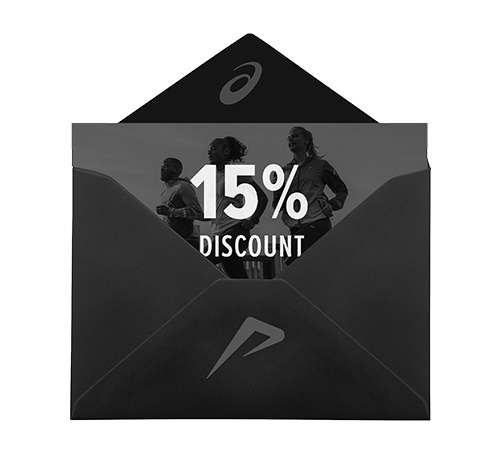 EXTRA 15% OFF ASICS
Take advantage of this unique Black Friday deal! You will receive an extra 15% discount on all ASICS products. Use the following code at the check-out to receive this discount:
Accessories
Always visible in the dark! From the 25th to the 28th of November you can receive at least 15% discount on accessories.
Shop Accessories Deals
SPORTS UNDERWEAR
Exercise in clothing that wicks away sweat, with at least 15% discount on sports underwear.
Shop Underwear Deals
ELECTRONICS DEALS
A new sports watch or headphones can be expensive. So, grab your chance now and take advantage of these exclusive deals on our various watches and headphones!
Garmin
Garmin has a variety of multisport watches to fit any runner and take their performance to the next level. Garmin boast many handy features such as a heart rate monitor. The ideal running partner to keep track of your progress and to help you train more effectively.
Shop Garmin Deals
Polar
Polar offers a range of products that combine expertise in the fields of sports, physiology, and electronics. Polar's products contain technological innovations and heart rate monitoring. With Polar products, improving your sports performance is possible, regardless of your level.
Shop Polar Deals
Shokz
Music can boost your run. At All4running you can find a range of Shokz headphones in our Black Friday sale. You don't wear these wireless headphones the traditional way, with bone conduction technology they are made to be worn on the front of your ear. This makes them very safe to wear.
Shop Shokz Deals
SPORTS NUTRITION
Sports nutrition gives you the energy you need to keep running.
SIS
SIS, or Science in Sport, is a leader in their field. SIS make sports nutrition for elite athletes, right down to the running enthusiast, and the weekend warriors.
Shop SIS Deals
Clif
Feed your adventure. CLIF originated on bicycles. The founder, Gary, took a bite of another energy bar and thought, "I can make something better than this."
Shop Clif Deals