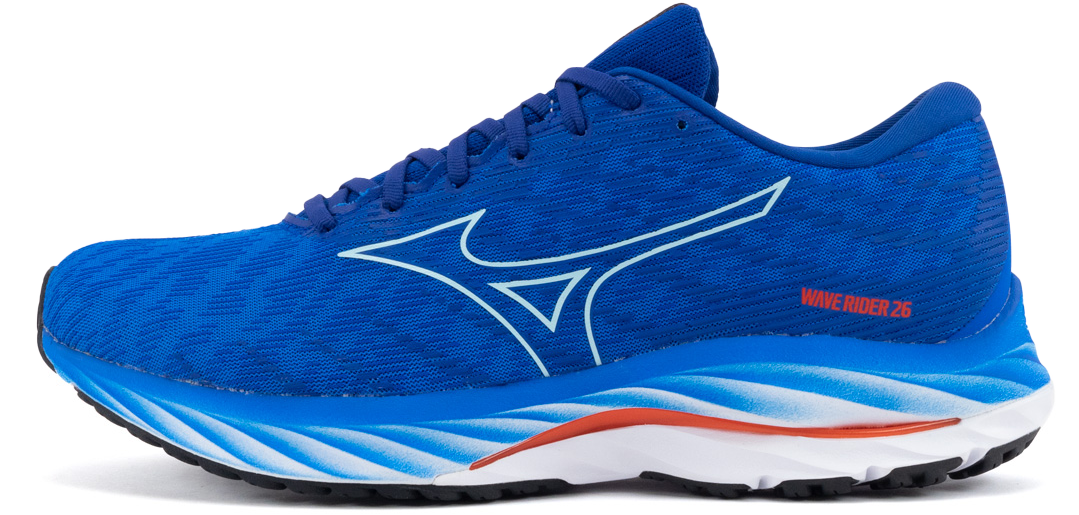 THE MIZUNO WAVE RIDER 26 – YOUR TICKET TO A RUNNER'S HIGH?
DThe Mizuno Wave Rider is back! The 26th edition of this iconic Mizuno shoe has more cushioning than ever. What's more: it still knows to retain the shoe's celebrated stable character. The WAVE PLATE in the midsole propels you forward, while the MIZUNO ENERZY foam provides you with infinite levels of energy. Achieve more than you set out to do and enjoy the ride all through!
The Mizuno Wave Rider 26 is a running shoe for every day use. A shoe that, thanks to its smooth roll and high degree of comfort, places finding your runners high within reach and allows you to tick off more miles than you ever intended; find your own Forest Gump moment: just run!
Weight Men
approx. 275 grams
Weight Women
approx. 230 grams
Type of Runners
Neutral Runners
Type of Shoes
All-round Running Shoes
3

reasons why the Mizuno Wave Rider 26 is perfect for you
You land over your heels and are looking for a running shoe with heel cushioning.
The Mizuno Wave Rider 26 has a 12 mm drop (drop refers to height difference between heel and forefoot). Thanks to this relatively high drop, the impact of landing is attenuated. Thereby making this model very suitable for heel landers. Another benefit of the higher drop is that the Achilles tendons and calf muscles will experience less stress. The famous Mizuno Wave Plate found from the heel to the forefoot ensures a good stable feel and excellent energy return every step of the way.

You are looking for an all-round running shoe that is neutral and stable.
How does the Wave Rider 26 stand out from the crowd of other neutral all-round running shoes? The combination of MIZUNO ENERZY foam and the MIZUNO WAVE PLATE in de midsole. MIZUNO ENERZY foam provides excellent cushioning and energy return while also being very durable. Thanks to the latter the shoe's foam knows to retain its cushioning through time. The WAVE PLATE in turn gives the shoe torsional rigidity while preventing lateral movement. The wavy pattern of the plate stimulates forward motion in the ankle, while at the same time keeping the ankle stable during the stance phase of your stride. The Wave Rider 26 is one of today's most stable neutral running shoes on the market. Where many neutral running shoes become increasingly flexible and sometimes unstable, the Wave Rider 26 knows to keep its rigidity and thereby its stability.

You have just started running and want to build up slowly.
As a beginning runner, you're looking for an all-round running shoe that gives you stability and cushioning. That's exactly what the Wave Rider 26 does. Thanks to the ENERZY foam you'll experience balanced cushioning. The shoe is therefore excellent for building endurance and for preparing you for your first 5 or 10 km. Do you like taking it off-road? The Wave Rider 26 is also a reliable off-road partner. Thanks to its torsional stiffness, it will keep your ankle, knee and hip stabilised when running on uneven paths.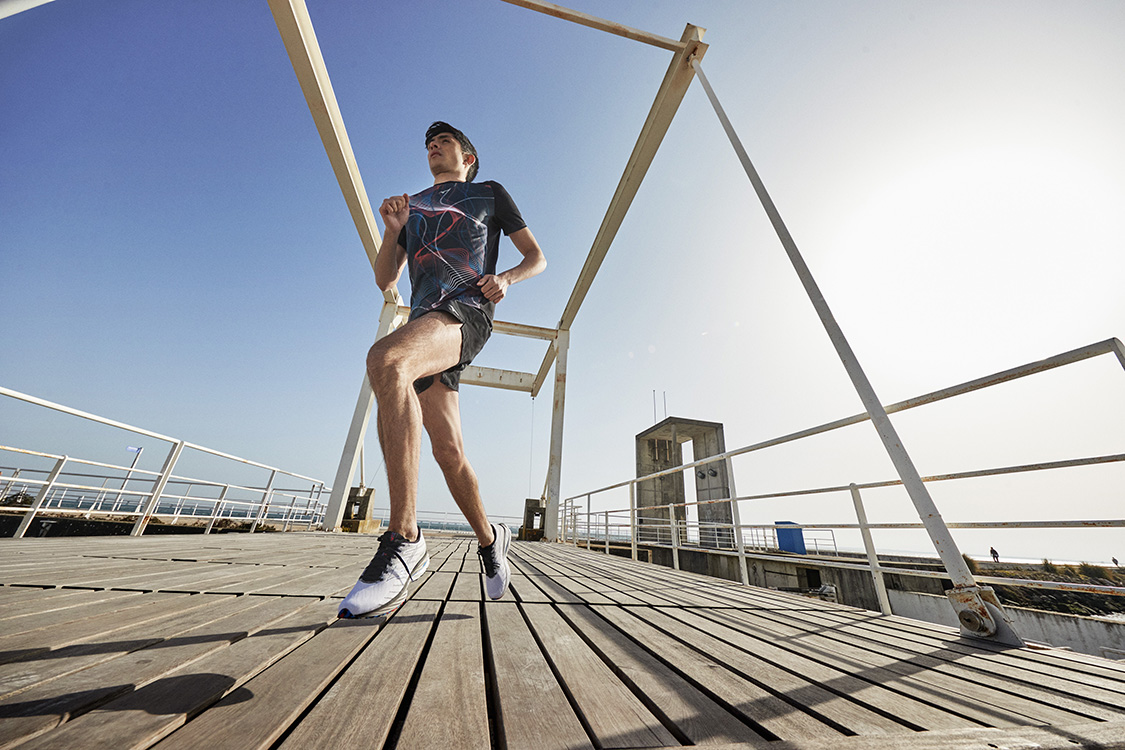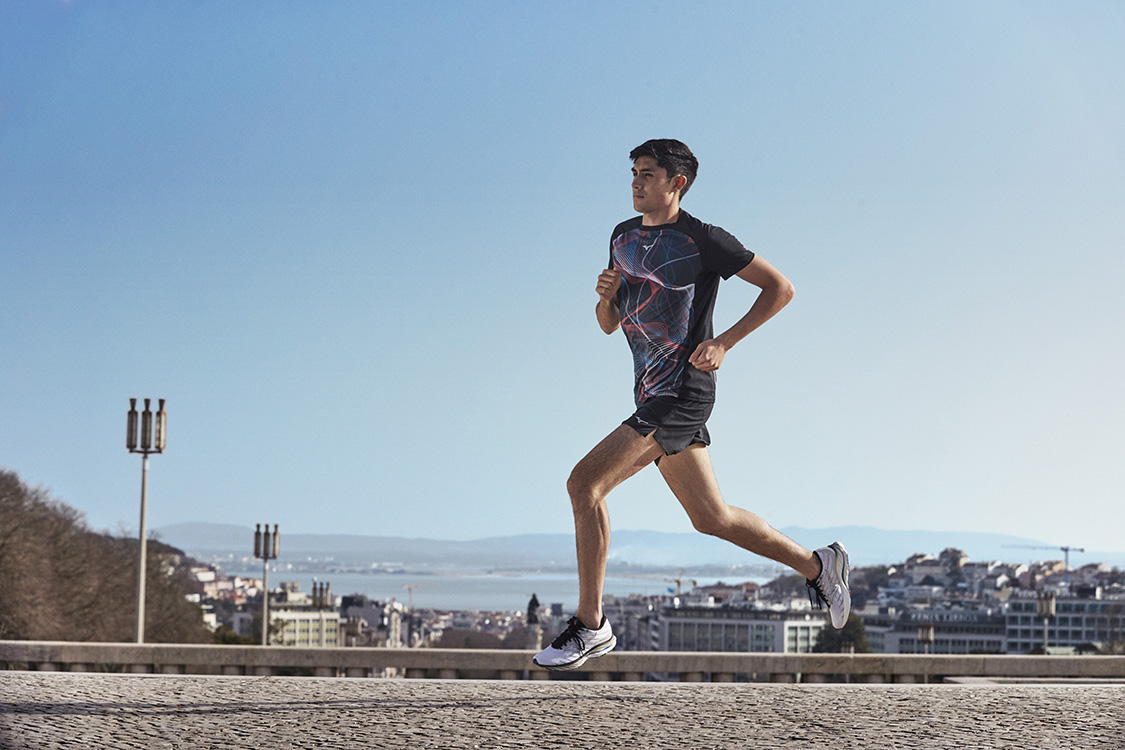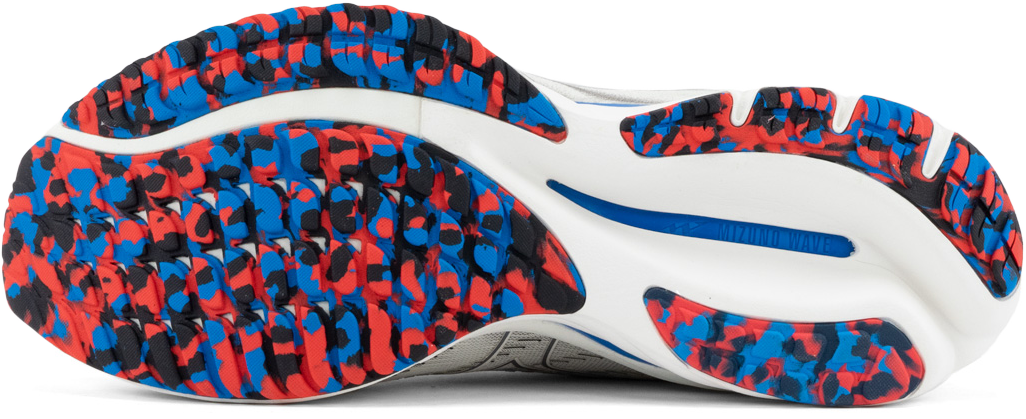 "How to describe the Mizuno Wave Rider 26 in two words? Bouncy and stable!"
Daan Glorie – Product Expert
Did you know…
Mizuno has been one of the proud main sponsors of the TCS Amsterdam Marathon since 2000. Every new edition of the Amsterdam Marathon, Mizuno launches a special version of one of their models that celebrates the event. This model is decorated with references to the city of Amsterdam's rich culture and history. Last year Mizuno partnered up with the Rijksmuseum and designed a special edition of the Wave Skyrise 2 which drew inspiration from the Rijksmuseum's Asian pavilion. This year Mizuno linked the Wave Rider 26 to the Amsterdam Marathon. Curious to see the design? 
The Mizuno Wave Rider 26 in detail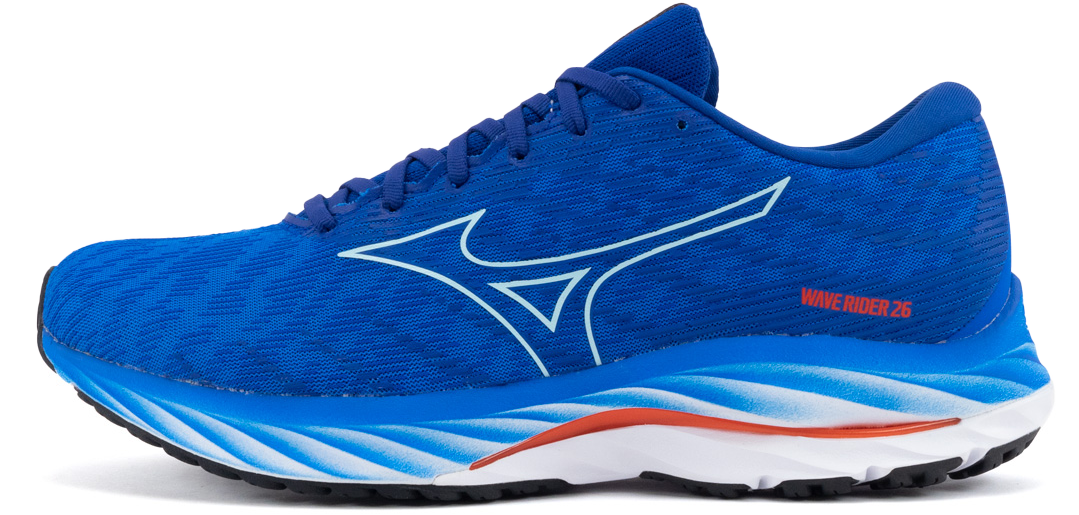 MIZUNO ENERZY foam
The midsole is 2mm thicker and provides more cushioning and energy return with every step you take.
WAVE PLATE
This WAVE PLATE runs from heel to forefoot and ensures stability and a flexible heel-to-toe transition.
Mesh-upper
The upper is soft and comfortable and ensures that your feet have ventilation.
DAS BESONDERE AN MIZUNO, DIE WAVE PLATE
Die Wave Plate ist charakteristisch für die Laufschuhe von Mizuno. Diese Platte besteht aus einer Kunststoff- oder Schaumstoffschicht und ist wellenförmig gestaltet. Diese Wave Plate soll dem Körper während des Laufens mehr Stabilität verleihen und eine seitliche Bewegung verhindern. Das wellenförmige Design sorgt für eine stabile Landung und mehr Federkraft beim Abstoß. Viele neue neutrale Laufschuhe, die auf den Markt kommen, haben an Stabilität verloren. Anders aber der Mizuno Wave Rider 26. Dieser Schuh bleibt seinen Anfängen treu und bietet auch mit der 26. Ausgabe ein stabiles Laufgefühl.
3

innovations found in the Mizuno Wave Rider 26
More MIZUNO ENERZY foam
In a nutshell, the trend of running shoes in 2022 is; "more cushioning, thicker soles and more comfort". Because of the COVID-19 pandemic, more people have picked up running. Often these runners place less focused on improving times and place more importance on improving their health. Running brands are cleverly capitalising on this by making running shoes even more comfortable. The Mizuno Wave Rider 26 is one of the models that reflects this trend, and now has more cushioning than ever before. The MIZUNO ENERZY midsole is 2mm thicker and gives great cushioning and energy return. Whatever your goals, the Wave Rider 26 will take you the distance.
New Jacquard-mesh upper
The new Jacquard-mesh upper is highly breathable and keeps your feet dry and comfortable. This upper is made with recycled materials. The heel cap is shaped towards the calf to prevent you from slipping out of the shoe. The internal reinforcement of the heel cap provides ankle support. The lining on the inside of the heel feels very comfortable.
Rounder shape of the outsole
The Mizuno Wave Rider 26 has been given a rounder outsole, which ensures a smooth transition from heel to forefoot. The 2mm thicker midsole also gives you an even more propulsive and cushioned feel underfoot.
DER MIZUNO WAVE RIDER 26 IM TEST
Unsere Schuhe werden vorab von unseren Experten getestet. Dieses Mal hat Daan Glorie sich in sein Sport-Outfit geworfen und hat den Wave Rider 26 für dich getestet.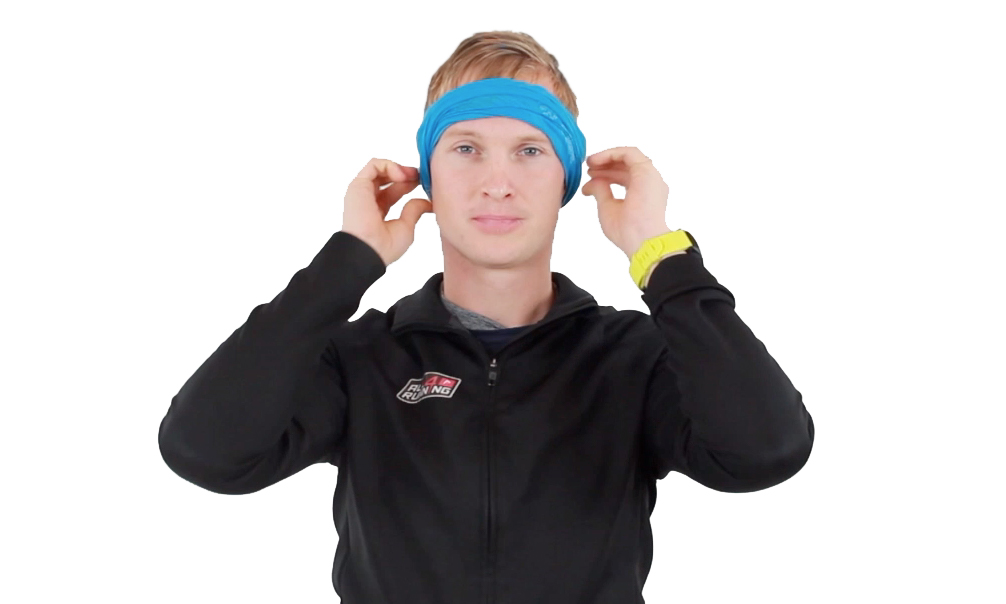 Type of runner
Neutral heel lander
Training
6 times a week
Terrain
Various
PB's
10 km – 35:36
42,2 km – 2:56:11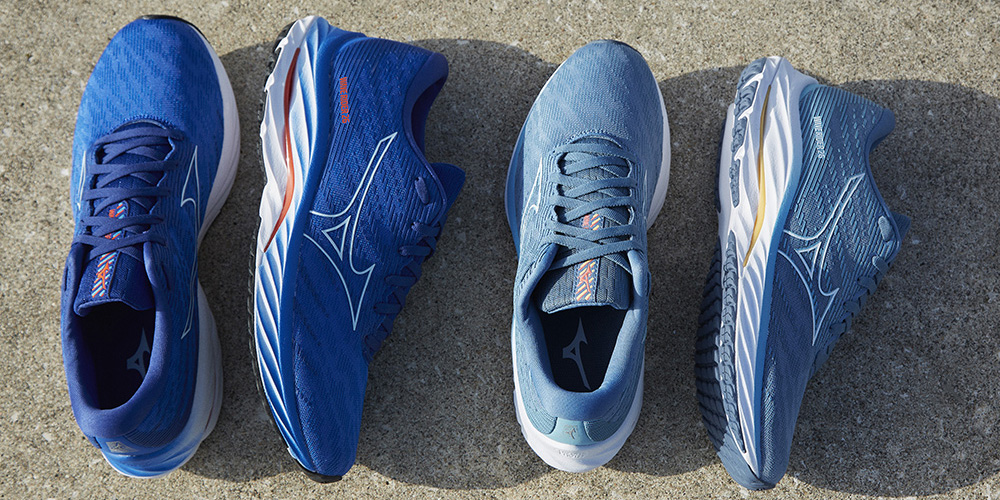 Fit
"When putting on the shoe, you immediately notice that there's a bit more room in the forefoot than was the case in the previous version. The lacing system, tongue and heel cap have stayed the same, resulting in an overall fit that gives a familiar Mizuno feel. Around the midfoot, the shoe is a bit tighter which gives a good lockdown feel."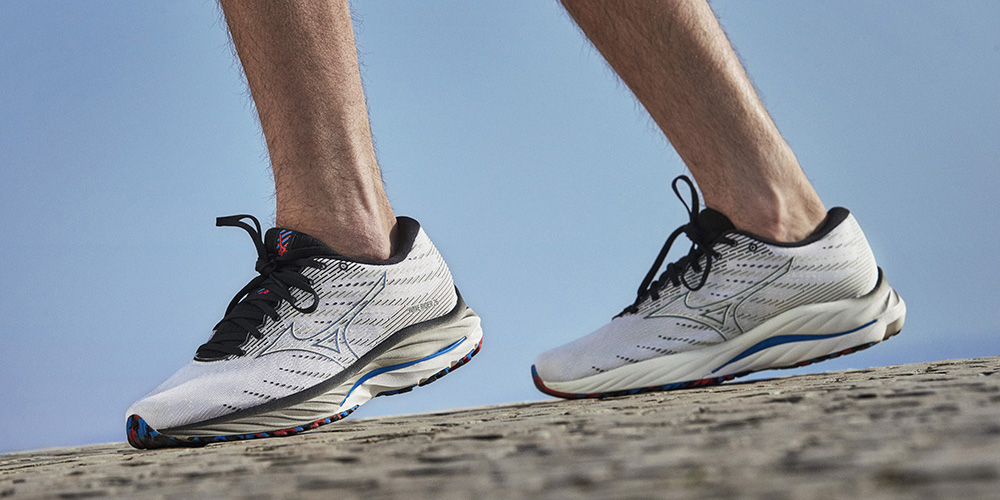 STRIDE
"The Rider 26 is the most popular running shoe in Mizuno's collection. The shoe is famed for its Wave Plate and for its stable ride. On top of that the Rider is also a celebrated model because it doesn't change every year. However, with this 26th edition the Wave Rider takes a giant leap: the shoe feels much softer, and much smoother. The Wave Plate has been moved a bit to the front, meaning that you'll experience more cushioning under the heel. The forefoot is also more responsive, making it easier to pick up your pace. How to describe the Mizuno Wave Rider 26 in two words? Bouncy and stable".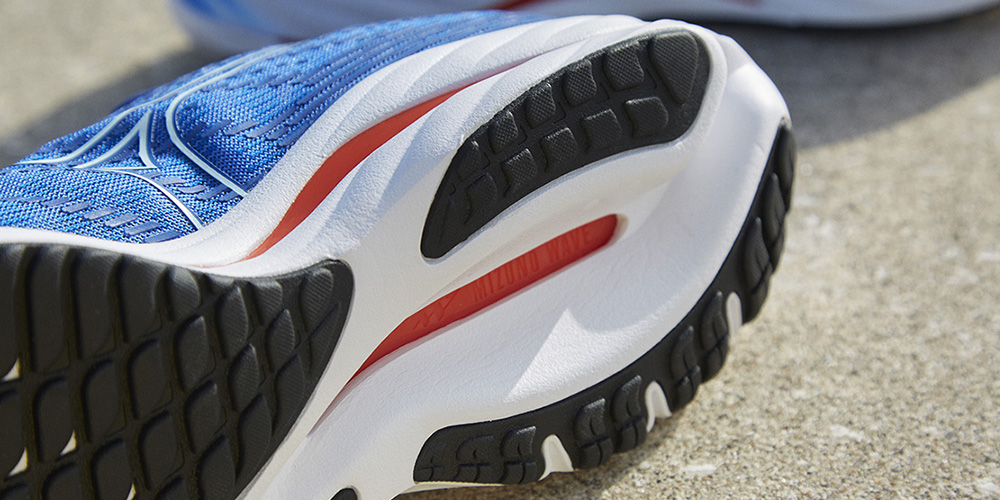 Comfort
"Some runners experienced a bit of a rocky ride with the Wave Rider 25: the combination of the Wave Plate and a high heel drop hindered a smooth stride. Mizuno has fixed this problem in this new version of the model. The Mizuno Wave Rider 26 provides a smooth running experience, and soft springy cushioning, but also knows to retain that familiar stable Rider-feel. The Wave Rider 26 now can really compete with the ASICS Cumulus and the Brooks Ghost."
The Mizuno All-round Family
The Mizuno Wave Rider 26 is part of Mizuno's all-round running shoe family. All-round running shoes are excellent for all types of training and any type of distance.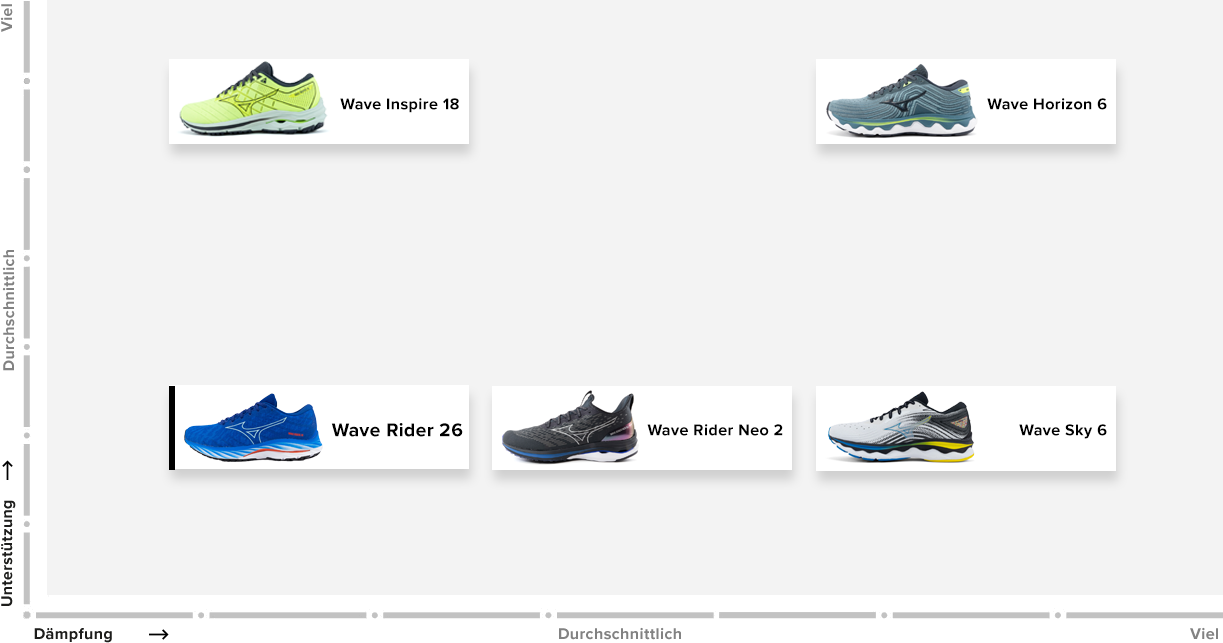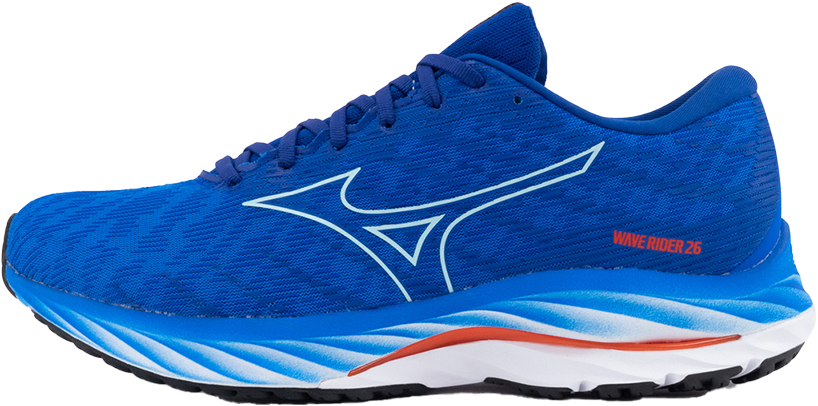 Mizuno Wave Rider 26
Der Mizuno Wave Rider bietet jetzt noch mehr Dämpfung als je zuvor, trotzdem bleibt der Schuh seinem stabilen Charakter treu. Mit diesem Allrounder bist du optimal für dein tägliches Training gerüstet – und das bei jedem Abstand. Schlüpfe in den Wave Rider 26 und erlebe auch du das ultimative Runners High-Gefühl.
Discover the Mizuno Wave Rider in our Shop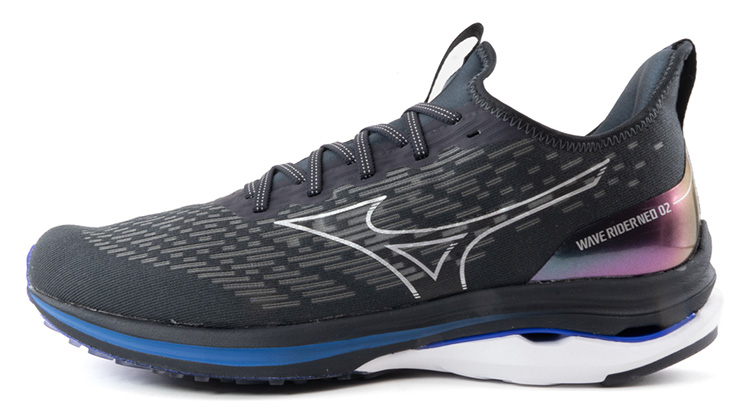 Mizuno Wave Rider Neo 2
Fans of the Wave Rider, might also consider trying the Wave Rider Neo 2. This lighter and softer version offers a premium feel and is ideal for tempo and interval training.
Discover now – Mizuno Wave Rider Neo 2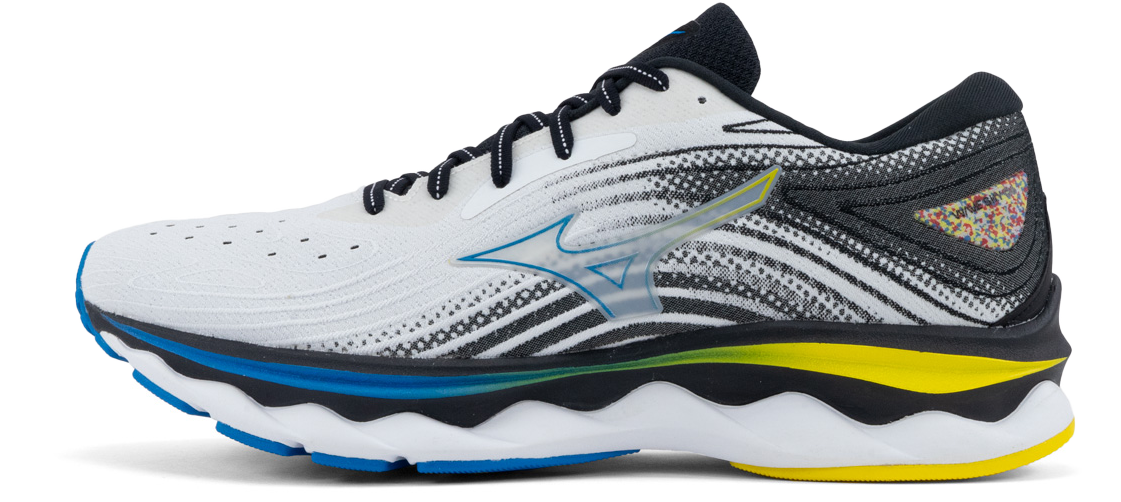 Mizuno Wave Sky 6
The Wave Rider 26's big brother is the Wave Sky 6. Because of the extra Mizuno ENERZY CORE foam the Sky 6 provides additional cushioning, thereby making it a bit softer than the Rider 26. Thanks to this extra cushioning the shoe is also very suitable for longer distances, such as half and full marathons.
Discover now – Mizuno Wave Sky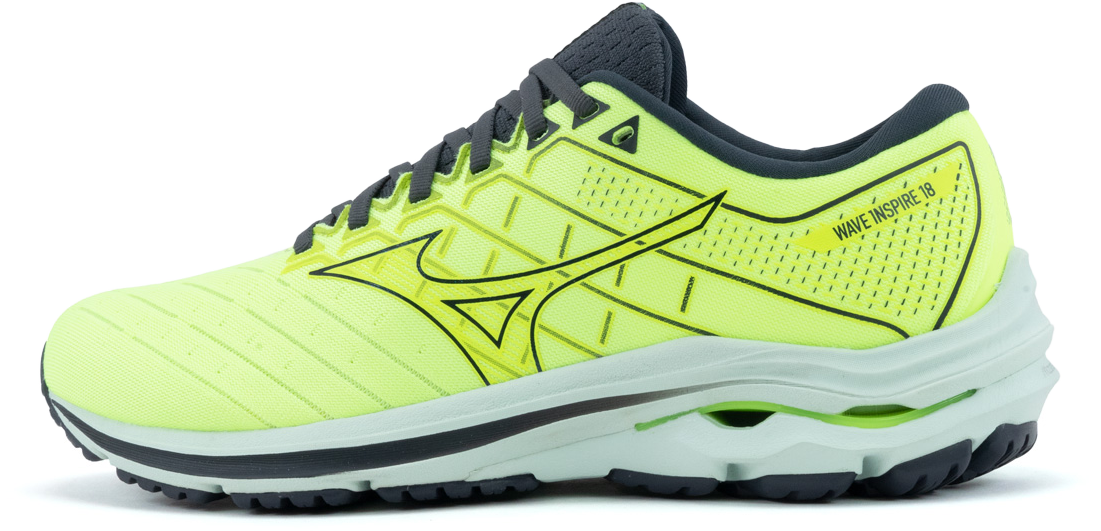 Mizuno Wave Inspire 18
Yet another interesting model for 'Riders' is the Mizuno Wave Inspire 18. The Wave Plate in this model is made a bit higher on the inside which helps prevent overpronation.Discover now – Mizuno Wave Inspire 18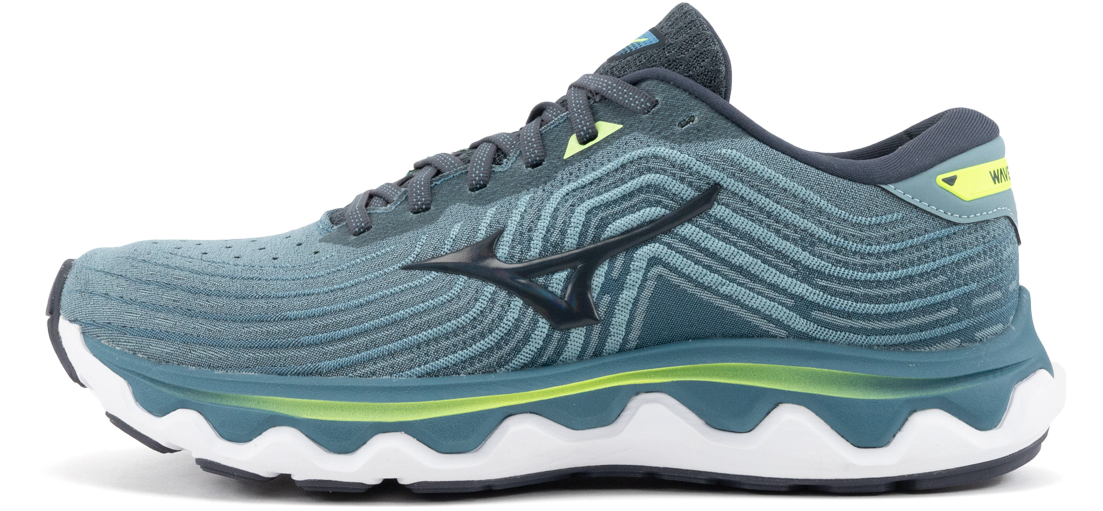 Mizuno Wave Horizon 6
Der Mizuno Wave Horizon 6 ist ein Allround-Laufschuh für überpronierende Läufer. Der Horizon ist die Stabilitäts-Version des Mizuno Wave Sky. Dank der Dämpfung und der gebotenen Stabilität eignet sich dieser Schuh vor allem für größere oder auch etwas kräftigere Läufer.
Jetzt entdecken – Mizuno Wave Horizon 6
The Finishing Lines
With the Wave Rider 26 Mizuno takes a great step in the direction of a comprehensive collection of all-round running shoes. A collection of shoes that provide both comfort and energy return. Thanks to the thicker MIZUNO ENERZY foam in combination with the reinterpreted Wave Plate position, the shoe knows to provide a smoother ride. Despite the thicker midsole, the Rider still is a very stable running shoe. A very noteworthy achievement, as most thick-soled running shoes these days are relatively unstable.
Comparable models to the Mizuno Wave Rider include the ASICS Cumulus and the Brooks Ghost. As the Rider 26, both of these models are stable all-round running shoes for neutral runners. Curious? Check out the Mizuno Wave Rider 26 in our webshop.
Still have some questions about the Mizuno Wave Rider 26? Don't hesitate to contact our team of product expert at the 21RUN customer service.